Excerpts: a Sunday note from Morgan Stanley's chief biotech analyst Matthew Harrison
Welcome to your first and only chance to have a Morgan Stanley biotech analyst tell you what he thinks about the market. Over the past week it has been striking to see how investors have reacted to the first signs that new COVID-19 cases in New York are starting to stabilize. While we understand the desire for optimism, we also caution that the US outbreak is far from over. Recovering from this acute period in the outbreak is just the beginning and not the end. We believe the path to re-opening the economy is going to be long. It will require turning on and off various forms of social distancing and will only come to an end when vaccines are available, in the spring of 2021 at the earliest.
With Italy finally turning the corner in its outbreak as the growth in new daily cases has started to decline, the market has turned its attention to the US. We recently completed a state-level model for the US which suggests it is likely to face a multiphasic peak. In particular, we expect the coastal regions, led by New York, to peak – defined as a sustained decline in new daily cases – over the next 3-5 days. However, we expect the rest of the country to follow slowly, trailing the coasts by around three weeks. While this "second" peak is unlikely to be as severe as the first (~10,000-15,000 daily new cases versus 30,000-35,000 in the first peak), it means the US outbreak will have a very long tail. This much longer tail would put the US time to peak at ~4x China and 2x Italy, driven by the slow uptake of social distancing measures and lack of robust testing (New York, with the highest testing ratio in the US, is still testing at a per capita rate just half that of South Korea's most impacted city Daegu). This would put an initial US reopening on track for mid-to-late May at the earliest.
Investors should realize that this won't be a "normal" re-opening. In COVID-19: A Prescription to Get the US Back to Work, we argue that only after we see (1) adequate surge capacity in hospitals, (2) broad public health infrastructure to support testing for disease surveillance, (3) robust contact tracing to curtail "hot spots" and (4) widespread availability of serology testing (blood tests to see who is already immune to the virus) can the US confidently return to work. We see this happening in waves starting in mid-summer. Unfortunately, we think there will still be a large number of workers not able to go back to work until a vaccine is abundantly available as social distancing cannot be fully relaxed until we have herd immunity (~60% of people vaccinated). Furthermore, large venues such as sports stadiums, concert halls and theme parks are also likely to remain shut or have attendance capped at 10-25% of prior levels. This view on the delayed peak and slow return to work has led our US economists to revise their US forecast to a return to pre-COVID-19 levels not until 4Q21.
Despite the significant concerns we raise about the path to a US recovery, we continue to believe the market is underestimating the impact the drug pipeline can have on the public policy response to the virus. We should stress that investors cannot afford to lose sight of the fact that only a vaccine will provide a true solution to this pandemic. We also believe that governments should invest in large-scale vaccine manufacturing prior to successful results for all viable candidates despite some not making it to market. Only by building production capacity now can governments provide the billions of vaccine doses we need to meet demand for the 2021 season. That said, in the interim there are promising antivirals and antibody therapies in the pipeline with data starting in April and continuing through the late summer. We believe that at least some of these drugs can be successful and help to turn severe cases into milder forms of the disease. Such an outcome could reduce the potential strain on hospitals and allow public health officials to support a broader re-opening of the economy before a vaccine is available. Thus, with therapeutics available in the near term and a vaccine on the horizon, the market could start to "look through" the slow US recovery and back to pricing in future US growth.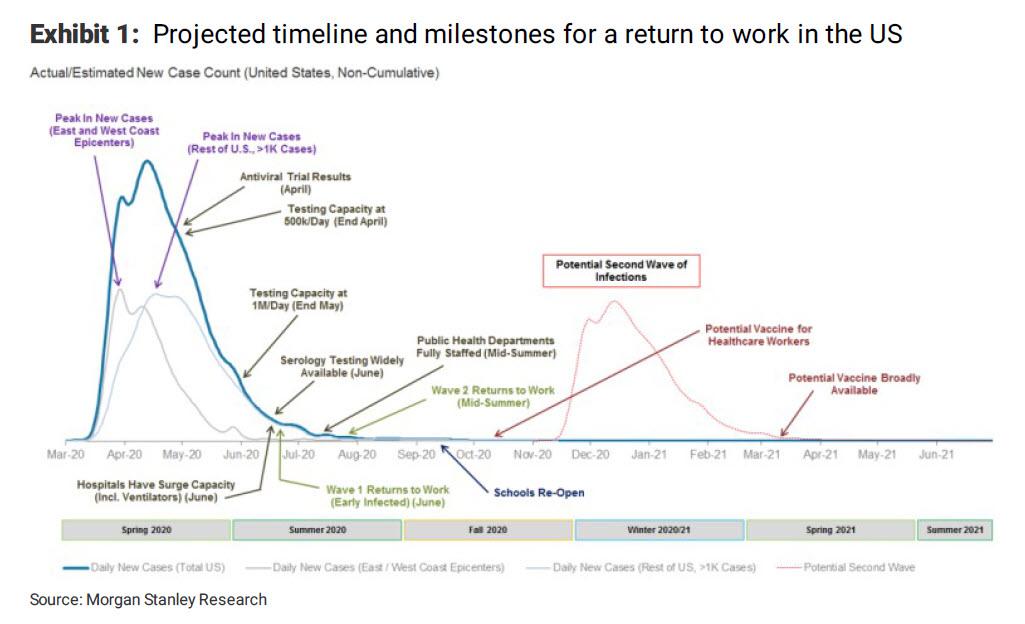 Source: ZeroHedge